David B. Goldstein
Of Counsel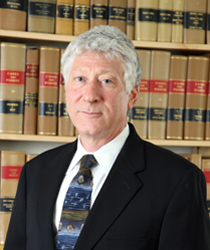 Tel: (212) 254-1111 ext. 103
Fax: (212) 674-4614
Email: dgoldstein@rbskl.com
David Goldstein, a member of the Firm since 1999, is an experienced litigator with particular expertise in complex cases concerning intellectual property, commercial matters, international law, civil liberties, and appellate advocacy. Mr. Goldstein is a 1985 magna cum laude graduate of Harvard Law School, where he was a member of the Harvard Law Review. He has also been a full-time and adjunct professor of Constitutional Law and Federal Civil Procedure.
Upon graduation, Mr. Goldstein clerked for the Honorable James L. Oakes of the United States Court of Appeals for the Second Circuit. Following his clerkship, he was awarded the prestigious Karpatkin Fellowship at the American Civil Liberties Union, where he worked on the ACLU's Supreme Court docket, and children's and reproductive rights issues. Mr. Goldstein was an associate at the Firm from 1987-1992, and at Weil, Gotshal & Manges, LLP from 1992-96, where he was involved in complex trade secrets, commercial, and bankruptcy litigation. Mr. Goldstein left practice to teach law from 1996-1999, as Assistant Professor of Law at South Texas College of Law in Houston, Texas, where he taught Constitutional Law, Federal Civil Procedure and Professional Responsibility. In 2000-01, Mr. Goldstein served as Adjunct Professor of Law at Fordham Law School in New York, where he taught Civil Procedure. In 1999, Mr. Goldstein rejoined the Firm as a principal.
Mr. Goldstein's practice focuses on complex litigation in both the trial and appellate courts. Mr. Goldstein has also litigated numerous cases at the Trademark Trial & Appeal Board (TTAB) of the United States Patent and Trademark Office. He has appeared in numerous appellate courts and trial courts in a wide variety of matters.
The primary subject areas of Mr. Goldstein's expertise are intellectual property, international law and constitutional and civil liberties law. He also has extensive litigation experience in commercial matters, disputes over artworks, trade secret misappropriation, copyright infringement, and attorney disciplinary proceedings. Mr. Goldstein is co-author of a leading law review article on recovery of stolen art, "Creating an Equitable Balance Between the Rights of Former Owners and Good Faith Purchasers of Stolen Art," 64 Fordham L. Rev. 49 (1985).
Mr. Goldstein is currently representing the Republic of South Africa in several important federal cases raising unusual issues. He is defending the Republic of South Africa in litigation that seeks to hold it liable for claims against South African citizens based on allegations that these individuals acted as agents of the former apartheid regime. In another case, he is presenting South Africa's objections to litigation in United States courts of claims of South Africans against multinational corporations for their activities in apartheid-era South Africa. The Republic of South Africa maintains that whether and in what manner to hold these corporations responsible is a sovereign decision for South Africa alone to make, not a matter for courts in the U. S.
Previously, Mr. Goldstein prevailed in sovereign immunity litigation on behalf of the Republic of South Africa arising from its effort to prevent unauthorized use of Internet domain names bearing the "South Africa" name. In connection with the protection of country names as Internet domain names, Mr. Goldstein advised the Government and assisted in preparing presentations to the World Intellectual Property Organization (WIPO) and the Internet Corporation for Assigned Names and Numbers (ICANN).
Mr. Goldstein has worked closely with Michael Krinsky on the Firm's representation of the Cuban government and Cuban enterprises, including in the areas of telecommunications, travel, trade sanctions, banking, intellectual property, sovereign immunity, and execution of judgments.
A significant part of Mr. Goldstein's intellectual property practice concerns the protection of trademark and related rights in the United States of the renowned Cuban cigar brands of the Cuban cigar companies, Habanos, S.A. and Cubatabaco, including litigation in the U.S. courts and at the TTAB, and obtaining and maintaining registrations with the USPTO. With Mr. Krinsky, he is representing Cubatabaco in federal litigation over the U.S. rights to the world famous COHIBA trademark. Mr. Goldstein also represents the trademark owners of most other marks registered by Cuban nationals in the United States.
Mr. Goldstein, with Eric Lieberman, represents several religious organizations and their members in a diverse array of matters, ranging from disputes with local, state and federal governments, often involving constitutional issues, to intellectual property issues, family law, and tort and commercial litigation. Recently, in federal civil rights litigation on behalf of a church and its members, the Firm ended the efforts of a county agency to remove children from their families, and to restrict the religious practices of parents and their children.
Mr. Goldstein has also successfully represented attorneys in state and federal proceedings in commercial advertising and free speech/fair trial matters.
Mr. Goldstein's publications include Creating an Equitable Balance Between the Rights of Former Owners and Good Faith Purchasers of Stolen Art , 64 FORDHAM L. REV. 49 (1985) (co-author); Vietnamese Women and Children Refugees in Hong Kong: An Argument Against Arbitrary Detention , 4 DUKE J. COMP & INTL. LAW 71 (1993); and Government Intrusions into the Defense Camp: Undermining the Right to Counsel , 97 HARV. L. REV. 1143 (1984).
Back to top