Eric M. Lieberman
Principal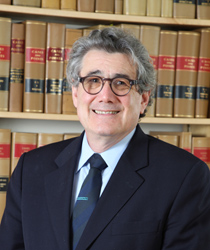 Tel: (212) 254-1111 ext. 101
Fax: (212) 674-4614
Email: elieberman@rbskl.com
Eric Lieberman has been practicing law for over 35 years. After graduating with honors from Dartmouth College in 1968 and Harvard Law School in 1971, Mr. Lieberman received a prestigious Arthur Garfield Hays Post-Graduate Fellowship from New York University School of Law, where he studied constitutional law and prepared briefs for submission to the Supreme Court of the United States. At the conclusion of the Fellowship, Mr. Lieberman joined the Firm, becoming a partner in 1976 and a name partner in 1978.
Mr. Lieberman's practice has focused on complex litigation both at the trial court and appellate level. He has appeared before the Supreme Court, where he has successfully argued two landmark cases and has worked on numerous other Supreme Court proceedings. He also has appeared before all twelve regional United States Courts of Appeals, as well as numerous state appeals courts. He has conducted litigation at the trial court level in both state and federal courts throughout the country.
The subject areas of Mr. Lieberman's practice have been diverse, including First Amendment and constitutional litigation, civil rights and civil liberties, international law, copyright, defamation, commercial speech, commercial tort and contract litigation (both plaintiff and defendant), criminal appeals, and trust and estate litigation.
Mr. Lieberman served for many years, together with the Firm's Michael Krinsky, as General Counsel for the National Emergency Civil Liberties Committee, an organization that litigated many important civil rights and liberties cases. Mr. Lieberman, with Mr.Krinsky, is also General Counsel for the Bill of Rights Foundation, a similar organization. Mr. Lieberman served as Chairman of the Subcommittee on Civil Rights and Criminal Procedure of the Committee on State Legislation, New York County Lawyers Association
Constitutional Law and Foreign Affairs
Mr. Lieberman successfully argued one of the Supreme Court's most important constitutional and foreign affairs cases of recent times, Dames & Moore v. Regan, which upheld President Carter's resolution of the Iranian hostage crisis by agreeing with Iran to establish a claims arbitration panel in lieu of judicial resolution of U.S. national claims against Iran in the courts of the United States. The Supreme Court held that such executive power was essential to permit peaceful settlement of international crises. Following the Court's decision, Mr. Lieberman litigated several major inter-governmental disputes before the Claims Tribunal in The Hague, Netherlands.
First Amendment and Civil Rights Practice
Mr. Lieberman represented the Pacifica Foundation, Pen American Center, and a coalition of authors, including poet Allen Ginsberg, in a series of cases that struck down a federal statute that prohibited broadcast of allegedly "indecent" material – so broadly defined as to include many major literary and musical works – and that ultimately insured that such meritorious works could be broadcast to a national audience.
Mr. Lieberman's First Amendment work has also extended to the religion clauses of that Amendment. He has successfully represented a number of religious congregations and individuals asserting rights to exercise their religion against improper burdens or discriminatory practices. Such work has lead to at least five landmark religious freedom decisions: FSO v. City of Clearwater; Scott v. Ross; Meroni v. Holy Spirit Association; Word of Faith Fellowship v. Rutherford County; and United States v. Church of Scientology International.
One of the more interesting and important First Amendment cases of recent years was McConnell v. Federal Election Commission, in which Mr. Lieberman represented Professors Norman Dorsen, Burt Neuborne, and other former leaders of the American Civil Liberties Union as amicus curiae in the Supreme Court in successful defense of the McCain-Feingold Act's limitations upon federal campaign spending. Agreeing with amicus, rather than with the official ACLU position, the Court held that the compelling interest in regulating campaign spending justified such limitations.
Mr. Lieberman obtained a judgment against the United States Secret Service for violating the rights of the operator of a computer online bulletin board service (BBS) under the First Amendment and the United State Privacy Protection Act. Steve Jackson Games v. United States Secret Service. It was the first case recognizing the role of the Internet in the system of freedom of expression, and is widely cited in subsequent decisions.
Other free speech cases have included representation of a political candidate challenging loyalty oath restrictions upon ballot access; representation of authors whose works were excluded from school curriculums and libraries for religious or social reasons; representation of individuals who had been arrested for distributing religious literature on public streets and of other individuals who were fined for distributing political literature on NYC subway platforms; and representation of attorneys challenging overbroad limitations on attorney advertising. In each of these cases, the challenge to free speech restrictions was successful. Mr. Lieberman also has litigated several defamation cases, on behalf of both plaintiffs and defendants.
Mr. Lieberman worked closely with the Firm's co-founder Leonard B. Boudin on a number of notable and historic cases. He assisted in Mr. Boudin's defense of Dr. Daniel Ellsberg on charges of espionage for releasing the Pentagon Papers, co-wrote the briefs on behalf of James R. Hoffa in the latter's challenge to a clause in his pardon prohibiting him from holding union office, and participated in the Supreme Court challenge to the Executive Branch's ban on travel to Cuba in Regan v. Wald.
Among other civil rights cases, Mr. Lieberman represented James Peck, one of the Freedom Riders brutally beaten for attempting to integrate interstate buses, in an historic case establishing the duty of the FBI and Justice Department to intervene to protect civil rights. Mr. Lieberman also acted as associate counsel to Mr. Boudin in representing the Socialist Workers Party in its landmark lawsuit against the FBI for engaging in an ongoing practice of disruption of peaceful political activities and associations, including by use of illegal break-ins, wiretaps, and use of informers. The federal court found that the FBI's practices violated the Party's First and Fourth Amendment rights, and awarded it substantial damages and attorney fees.
Copyright and Trade Secrets
Mr. Lieberman's copyright cases have focused on the areas of fair use, particularly on the Internet. He has litigated leading cases establishing limits of fair use of unpublished works. He successfully argued for imposition of limited responsibility for copyright violations on Internet service providers who are informed of the violation and do not act to remedy it, a standard that was then explicitly adopted by Congress in enacting the Digital Millennium Copyright Act.
Mr. Lieberman also has litigated several cases raising novel and important questions involving trade secrets. In one case, a federal court upheld the trade secret claims of a religious organization to certain esoteric religious writings and practices that were subject to strict confidentiality restrictions and were made available only on a limited basis. In another case, the court upheld the Firm's arguments that trade secrets improperly disclosed might nevertheless retain legal protection if the holder of the secrets made reasonably successful efforts to recover their secrecy.
Commercial Practice
Mr. Lieberman's commercial cases typically have involved representation of businesses, non-profit organizations, artists, art dealers and galleries, and individuals in matters involving contract disputes, regulatory compliance, business torts, and claims of product disparagement. In one particularly notable case, Mr. Lieberman represented a party that had maintained an ongoing (and expensive) relationship with a leading public relations firm, which then resigned the account upon direction of its parent conglomerate because of conflicts with an advertising company under the same conglomerate umbrella. The case established that such a firm has a fiduciary duty to its clients that may not be breached because of the interests of related entities. Mr. Lieberman has also successfully litigated a novel case concerning the scope of fiduciary duties of a trustee under New York's Prudent Investors Act.
Back to top