Michael Krinsky
Principal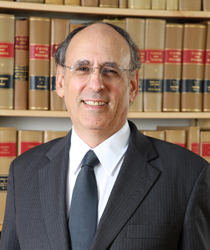 Tel: (212) 254-1111 ext. 102
Fax: (212) 674-4614
Email: mkrinsky@rbskl.com
Michael Krinsky has been practicing law for forty-five years. For three decades, he has led the Firm's representation of Cuba and other foreign governments, and their agencies and enterprises, as well as the Firm's practice in the area of U.S. embargoes and export controls.
Mr. Krinsky graduated from the University of Chicago's College in 1965 and its Law School in 1968. After working with the American Civil Liberties Union in Newark, New Jersey, he joined the Firm in 1971.
Cuba, and Its Agencies and Enterprises
Other Foreign Governments, and Their Agencies and Enterprises
U.S. Embargo Laws and Export Controls
Civil Liberties and Constitutional Law
Cuba, and Its agencies and enterprises. 
Mr. Krinsky has long spearheaded the Firm's representation of Cuba. The Firm is Cuba's only U.S. counsel.
Cuban Ministries
Mr. Krinsky advises Cuban Ministries – including Cuba's Foreign Ministry, Ministry of Foreign Commerce and Investment, Ministry of Basic Industries, Ministry of Telecommunications, and Ministry of Culture – on U.S.-related legal matters.
Cuban Agencies and Enterprises
Mr. Krinsky advises and assists Cuban agencies and enterprises with transactional and regulatory matters, as well as litigation, in all the permissible areas of commerce, finance, travel and intellectual property relations with the United States.
Cuban Litigation
Mr. Krinsky has represented the Cuban Government, and Cuban agencies and enterprises, in often precedent-setting litigation.
Among Mr. Krinsky's notable successes have been the Supreme Court decision  establishing the "separate entity" principle, which insulates state-owned enterprises from judgments and debts of the foreign government; defense of Cuban assets in the United States from seizure in satisfaction of  "anti-terrorism" judgments; and judicial rejection of the  traditional U.S. standard for compensation in nationalization disputes.
Other Foreign Governments, and their Agencies and Enterprises
Mr. Krinsky successfully represented the Bolivian state-owned telephone company in overturning the attachment of its New York bank accounts in a dispute arising out of Bolivia's nationalization of the foreign ownership interests in the telephone company.   He successfully defended President Aristide of Haiti in asserting "Head of State" immunity in the courts of the United States, and recovered Haiti state assets looted by the Duvaliers; represented Nicaragua in nationalization litigation; worked with his partner, Eric M. Lieberman, in representing Iran's central bank (Bank Markazi Iran) in nationwide litigation and helping craft the Algerian Declarations during the Iran-U.S. confrontation of 1979-81; represented, with Leonard B. Boudin, one of the Firm's founders, officials of the PLO's Permanent Observer Mission to the United Nations in litigation that blocked the U.S. government's efforts to close the Mission pursuant to the Anti-Terrorism Act of 1987; and worked with Victor Rabinowitz, the Firm's other founder, in representing Chile during the Allende years.
U.S. Embargo Laws and Export Controls
Mr. Krinsky assists numerous U.S. and third-country companies and other clients cope with U.S. restrictions on transactions with Cuba, as well as other sanctioned countries, and also U.S. export controls.   He is generally considered one of the leading experts on U.S. embargo laws and regulations.
His clients include U.S. and third-country tour operators and travel agencies, commercial companies, not-for-profits, foundations, software developers, airplane charter companies, remittance forwarders, entertainment and news organizations, colleges and universities, cultural institutions, and artists and art galleries, among others.
Mr. Krinsky litigated the case that established an exemption for art from the U.S.'s embargo programs (Ashton v. Newcomb). On behalf of a U.S. civil liberties organization, he helped draft Congressional legislation that exempted the Internet, television broadcasts and other electronic transmissions of informational material from the U.S.'s embargo programs.
Mr. Krinsky's book, UNITED STATES ECONOMIC SANCTIONS AGAINST CUBA: PROCEEDINGS IN THE UNITED NATIONS AND INTERNATIONAL LAW ISSUES (Michael Krinsky & David Golove eds., Alethia Press 1993), supported by a grant from the John D. and Catherine T. MacArthur Foundation, was praised by both the American Journal of International Law and Foreign Affairs. It grew out of Mr. Krinsky's work on the first U.N. General Assembly resolution condemning the U.S. embargo against Cuba.  He has also written numerous articles on international law and U.S. embargo topics.
Intellectual Property
Mr. Krinsky is currently representing the Cuban cigar company, Cubatabaco, in its fight for the U.S. rights to the world-famous COHIBA trademark for cigars.  In a case involving HAVANA CLUB rum, Mr. Krinsky established that a U.S. embargo on trade excuses foreign mark holders from the use requirements of U.S. trademark law.
Civil Liberties and Constitutional Law
Mr. Krinsky, along with Eric Lieberman, was General Counsel to the National Emergency Civil Liberties Union for many years, as well as General Counsel to the Bill of Rights Foundation.  He has litigated significant cases concerning the right to travel abroad; the right to receive informational materials from abroad; FBI and CIA surveillance and covert infiltration and disruption of U.S. organizations; and the right of minor political parties to exemption from mandatory disclosure of campaign contributions.  Mr. Krinsky assisted Leonard B. Boudin, one of the Firm's founders, in the defense of Dr. Daniel Ellsberg against "national security" criminal charges for releasing the Pentagon Papers, the Defense Department's secret history of the Vietnam War.
Professional Affiliations 
Executive Director, Center for Inter-American Legal Education, Inc.  www.juridicainteramericana.org/english
Member, American Society of International Law.
Member, National Lawyers Guild.
Back to top